I bought Valentine's Day socks at the dollar store to wear next week! I am so excited to wear them :)
I was so excited to have a snow day on Monday I couldn't even contain myself. We got so much snow, we actually ended up with about 15 inches when everything was all said and done. It was up to my knees halfway through the day!
I posted my FIRST bundle ever to TPT earlier this week. I was so excited to post these and hope that they will do well. I have shared in a recent blog post about my new obsession with task cards and I am actually thinking about using them for morning work soon!
Click on the image below or this
link
to check it out!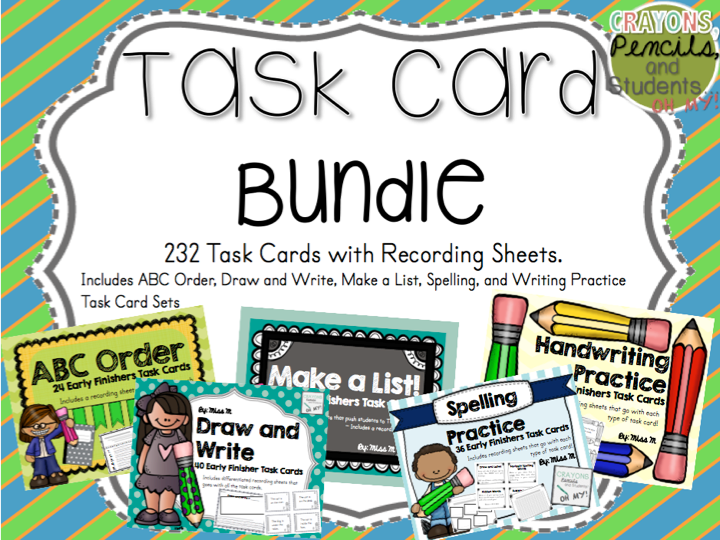 I finally got my new camera! I actually got a Samsung camera for Christmas but it didn't work out of the box... Yes, I know, you didn't think that could happen... me neither. So long story short Samsung wouldn't do anything about the camera, but the store I ordered from,
Crutchfield
was wonderful and replaced it with this beauty! I absolutely love it and am so excited to learn all about it. You can look forward to better quality photos!
Follow me on Instagram
here
!
I love these sentence strips. I did a sight word lesson just practicing sight words on these sentence strips and it worked wonderfully. I love that they have these at the dollar store because it doesn't make me feel bad about using them up.
After we went over the words and came up with sentences for them and spelled some of them we made sight word collages. I wish I had taken a picture of the student work but, they turned out really nice. The students were allowed to write the words every which way, and write in all different types of letters (bubbles, swirly, wavy, etc.) I put a few of the sight words at each table and the students moved around to get all of the sight words. When they had all of them or an appropriate amount they were allowed to decorate the words by coloring them with colored pencil or crayon. They LOVED it.
I hope everyone has a great weekend!